ORBSORT
ORBSORT IS RELEASED!
Orbsort is this small thing I've been working on and it's released HECK YES FINALLY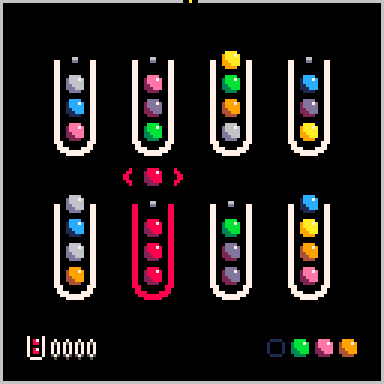 four cool gamemodes!
- Infinite (sort forever)
- Blitz (sort quickly)
- Clear (also sort quickly, but you don't have to optimize for points)
- Knockout (KILL YOUR FRIENDS VIA BEING ORGANIZED STRATEGICALLY)
+ 16 tracks of music (30 minutes) (not all of them are during gameplay, but they're all good i swear)
i've written many permutations of this
whatever
i started this game in april
please don't ask why it took so long lol
It's a game where you sort orbs, as quickly as possible to get as many points as possible.
Or, in Clear, the point is to play the game as little as possible.
Play it however you like. Increase the combotimer. Turn it off. Set the color count a little lower. Do whatever. Have fun.

ALSO IT'S ALL FREE :D